Malad City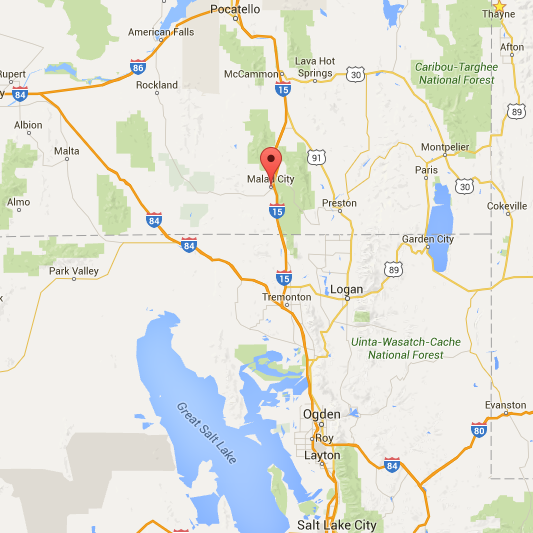 Located:
in South East Idaho along I-15
13 miles north of the Idaho/Utah stateline
55 miles south of Pocatello, Idaho
100 miles north of Salt Lake City, Utah
---
Malad City Park
The Malad Valley Welsh Festival is held in the Malad City Park, which is located between Oneida County Library and LDS Second Ward Church on 100 West.
Most activities are at the Park and the LDS Church building. Follow the Welsh flags to the Park.
Located: 0.9 miles from the exit
Drive Time: 5 minutes
Directions to Malad City Park from I-15 exits:
Take Exit 13, then

If arriving from the North, turn right at the fork
If arriving from the South, turn left, follow ID-38
Either way, a Chevron / Burger King will be on the right
Head west on 50 N toward an intersection with three roads — 0.3 miles
Turn right onto Bannock St — 0.3 miles
Turn left onto Bush Ave — 0.3 miles, park will be on left
---
Presbyterian Church
Located: 0.5 miles from Malad City Park
Drive Time: 3 minutes
Directions to Prebyterian Church from Malad City Park:
Note: the building is not physically located on a street, it's sandwiched between Oneida County Courthouse and a local eatery called the Cat-N-Chew
Head northeast on Bush Ave toward Bannock St — 0.3 miles
Turn right onto Bannock St — 0.2 miles
Turn left into parking lot of Cat 'n Chew (just past N. Main)
Drive straight through parking lot, you'll see church building ahead
---
Samaria
Located: 8.4 miles South West of Malad City
Drive Time: 14 minutes
Directions to Samaria from Malad City Park:
Head south on 200 W toward Bannock St — 0.2 miles
Turn left onto Bannock St — 0.2 miles
Turn right onto N 100 W/1st W St — 0.2 miles
Turn right onto ID-38/W 90 S/Depot St, Continue to follow ID-38 — 4.7 miles
Turn left onto S 4100 W — 1.4 miles
Continue onto S 4400 W — 1.3 miles
You've arrived in Samaria